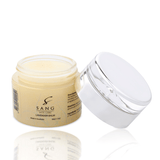 Sang Skin Care
Lavender Balm - Recovery balm base +Lavender & Cocoa Butter
Introducing "Lavender Balm - A Tranquil Retreat for Your Skin":
Name: Lavender Balm
Description: Step into a world of luxury and tranquility with our heavenly "Lavender Balm." This soothing balm revitalizes your skin, restoring its natural beauty and promoting a radiant appearance. Enriched with the essence of Lavender and the nourishing properties of Cocoa Butter, this balm indulges your senses while delivering essential care to your skin. It smooths wrinkles, adds a lustrous glow, and leaves your skin smelling divine and feeling healthy. Suitable for softening the skin during pregnancy and gentle enough for both mom and baby's stretch marks.
Indulge in Lavish Luxury: Immerse yourself in the delightful scent of Lavender as you experience a moment of tranquility and relaxation. The Lavender Balm's luxurious formula uplifts your senses while nurturing your skin with the finest natural ingredients.
Benefits:
Revitalizes the appearance of your skin
Smooths wrinkles and adds lustre
Suitable for softening skin during pregnancy
Can be applied to stretch marks on both mom and baby
Leaves your skin feeling healthy and nourished
Directions for Use:
Apply morning and night to both face and body.
Massage the balm into your skin until it is fully absorbed.
For dry areas such as hands, feet, elbows, and knees, apply the balm generously.
Ideal for use on irritated areas that require extra care and attention.
Ingredients: Our Lavender Balm is carefully crafted with a blend of Macadamia Oil, Beeswax, Shea Butter, Cocoa Butter, Calendula, Tocopheryl Acetate (Vitamin E), d-Panthenol, Lavender, Benzoic Acid, and Carrot Seed Oil.
Cruelty-Free and Earth-Friendly: We take pride in our commitment to being cruelty-free and never testing on animals. Our Lavender Balm is crafted with love for your skin and the environment, containing only natural ingredients without any harmful substances.
Indulge Your Skin and Senses: Experience a tranquil retreat for your skin with our "Lavender Balm." Let the nourishing properties of Lavender and Cocoa Butter pamper your skin and your senses. Embrace the natural beauty of your skin as you smooth wrinkles and restore radiance with this delightful balm. Elevate your skincare routine to a luxurious experience, knowing that you are embracing the goodness of nature with every application. Revel in the beauty of healthy, nurtured skin and the soothing aroma of Lavender that lingers with you throughout the day
Is this safe for sensitive skin?
Absolutely! Our Recovery Balm is specially formulated with natural ingredients, keeping sensitive skin in mind. It is gentle and should not cause any breakouts or irritation, making it ideal for all skin types, including sensitive skin.
How many uses can I expect from a jar?
Our jars come in two sizes: 30 grams and 50 grams. On average, the 30-gram jar lasts around 1-2 months, while the 50-gram jar lasts around 2-3 months. This estimation is based on using the balm 3-4 times per week.
What are the benefits of The Recovery Balm?
The Recovery Balm offers a range of remarkable benefits. Firstly, it detoxifies and deeply cleanses your skin, ensuring a refreshed and revitalised complexion. Additionally, it helps to tighten pores and effectively eliminates pollutants that your skin encounters daily. The balm's nourishing properties leave your skin feeling soft, smooth, and rejuvenated.
Is your product vegan and cruelty-free?
Yes, absolutely! We take pride in being an ethical and cruelty-free brand. All Sang Skin Care products are vegan and never tested on animals. We are committed to using 100% natural ingredients, ensuring your skincare routine is not only effective but also kind to the planet and its inhabitants.
How soon will I notice results?
The effects of our Recovery Balm are noticeable instantly! From the very first use, you'll experience cleaner and noticeably softer skin. As you continue to incorporate it into your routine, you'll witness enhanced results, as the balm works to improve the overall health and appearance of your skin
Stay tuned for more tutorials and tips on Sang's YouTube channel to enhance your skincare journey and achieve the healthy and beautiful skin you deserve. Subscribe now and never miss out on expert advice and amazing results!