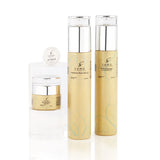 Sang Skin Care
Skincare packs
Introducing Sang Skincare Packs - Your Path to Radiant Skin
Pack 1: For Acne, Oily, Problematic-Prone to Normal, and Young Teenager's Skin
Foaming Cleanser 120 ml
Hydration Toner No 1 - 120 ml
Recovery Balm 25g
Exfoliating Cloth
Lip Balm 5g* (Choose Your Flavor: Strawberry/Chocolate/Caramel)
Pack No 2: For Normal to Dry, Mature, Sensitive Skin That Prefers Foaming Cleanser
Foaming Cleanser 120 ml
Hydration Toner No 2,3 - 120 ml
Recovery Balm 25g
Exfoliating Cloth
Lip Balm 5g* (Choose Your Flavor: Strawberry/Chocolate/Caramel)
Pack No 3: For Dry, Mature, Sensitive, Sun-Damaged Skin
Milk Cleanser 120 ml
Hydration Toner No 2,3 - 120 ml
Recovery Balm 25g
Exfoliating Cloth
Lip Balm 5g* (Choose Your Flavor: Strawberry/Chocolate/Caramel)
*Select your preferred lip balm flavor (Strawberry/Chocolate/Caramel) during checkout.
Tailor-Made Solutions for Every Skin Type:
At Sang Skincare, we understand that each individual's skin is unique, and our curated skincare packs are designed to address specific concerns and meet varying needs. Whether you battle acne and oily skin, seek nourishment for mature and sensitive skin, or desire revitalization for sun-damaged skin, we have the perfect pack for you.
The Power of Cleansing - The Freedom of Choice:
Both our Foaming Cleanser and Milk Cleanser boast exceptional benefits, making them suitable for all skin types. It's a matter of personal preference. For those with very dry and sensitive skin, we recommend the Milk Cleanser as a gentle yet effective option. You may also delight in knowing that the Milk Cleanser doubles as an excellent eye makeup remover, offering convenience and versatility for your skincare routine.
Experience the Sang Skincare Difference:
With a focus on natural ingredients and formulations backed by science and expertise, Sang Skincare proudly presents these packs that include our acclaimed Foaming Cleanser and Milk Cleanser. Enhance your skincare regimen with the nourishing and hydrating properties of our Hydration Toners No 1 and No 2,3, designed to restore your skin's balance and radiance.
Embrace the Healing Power of Recovery:
Our Recovery Balm, aptly named "The Healing Balm," holds the key to resolving various skin issues. With its luxurious and nourishing formula, it soothes and revitalizes, leaving your skin feeling younger and healthier. For extra rejuvenation, complement your skincare routine with our Exfoliating Cloth, which promotes gentle exfoliation and a vibrant complexion.
Indulge Your Lips - Customized Flavors:
Pamper your lips with our indulgent Lip Balm, available in three delightful flavors: Strawberry, Chocolate, and Caramel. Treat your senses while nourishing and protecting your lips from dryness, thanks to our blend of natural ingredients.
Elevate your skincare experience with Sang Skincare Packs, and unveil the radiant and youthful skin you've always dreamed of. Select your ideal pack and relish the journey to timeless beauty and confidence.
Note: As a bonus, all packs come with a 20% discount on products, bringing you exceptional value along with remarkable results. So, seize the opportunity to embark on a transformative skincare journey today!
Is this safe for sensitive skin?
Absolutely! Our Recovery Balm is specially formulated with natural ingredients, keeping sensitive skin in mind. It is gentle and should not cause any breakouts or irritation, making it ideal for all skin types, including sensitive skin.
How many uses can I expect from a jar?
Our jars come in two sizes: 30 grams and 50 grams. On average, the 30-gram jar lasts around 1-2 months, while the 50-gram jar lasts around 2-3 months. This estimation is based on using the balm 3-4 times per week.
What are the benefits of The Recovery Balm?
The Recovery Balm offers a range of remarkable benefits. Firstly, it detoxifies and deeply cleanses your skin, ensuring a refreshed and revitalised complexion. Additionally, it helps to tighten pores and effectively eliminates pollutants that your skin encounters daily. The balm's nourishing properties leave your skin feeling soft, smooth, and rejuvenated.
Is your product vegan and cruelty-free?
Yes, absolutely! We take pride in being an ethical and cruelty-free brand. All Sang Skin Care products are vegan and never tested on animals. We are committed to using 100% natural ingredients, ensuring your skincare routine is not only effective but also kind to the planet and its inhabitants.
How soon will I notice results?
The effects of our Recovery Balm are noticeable instantly! From the very first use, you'll experience cleaner and noticeably softer skin. As you continue to incorporate it into your routine, you'll witness enhanced results, as the balm works to improve the overall health and appearance of your skin
Stay tuned for more tutorials and tips on Sang's YouTube channel to enhance your skincare journey and achieve the healthy and beautiful skin you deserve. Subscribe now and never miss out on expert advice and amazing results!