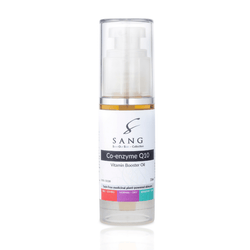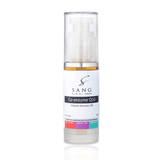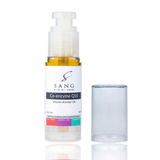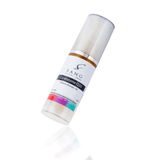 Sang Skin Care
Coenzyme Q10 Vitamin Booster Oil
---
Name: Regenerative Rose Oil with Coenzyme Q10 Vitamin Booster
Description: Experience the revitalizing power of our Regenerative Rose Oil with Coenzyme Q10 Vitamin Booster, a specially formulated blend of nourishing and regenerative ingredients designed to promote youthful and radiant skin. Enriched with precious Rose oil, essential vitamins, and Coenzyme Q10, this oil works wonders in renewing collagen and elastin, combating signs of aging, and reducing the appearance of fine lines and wrinkles.
Key Benefits:
Promotes collagen and elastin renewal for firmer, more elastic skin.
Reduces the appearance of fine lines and wrinkles, restoring a youthful glow.
Provides essential antioxidants for healthier skin.
Suitable for all skin types.
Ingredients:
Sweet Almond oil: Nourishes and softens the skin.
Jojoba oil: Helps regulate sebum production and balances the skin's natural oils.
Rosehip oil: Rich in vitamins and essential fatty acids, promoting skin rejuvenation.
Natural Vitamin E: An antioxidant that protects the skin from free radicals and environmental damage.
Rose Absolute: Provides a soothing and luxurious scent.
Soya bean oil: Supports skin hydration and elasticity.
Ascorbyl tetraiso palmitate: A stable form of Vitamin C, known for its brightening and anti-aging properties.
Alpha-bisabolol: Helps soothe and calm the skin.
Retinyl palmitate: A form of Vitamin A that aids in skin renewal.
Coenzyme Q10: An essential antioxidant that supports healthy skin.
Directions for Use: Massage a pea-sized amount of oil onto clean skin of the face and neck, both in the morning and at night. The oil can be used alone or as a powerful boost when applied before your favourite Sang Recovery Balm or moisturizer.
Features:
🇦🇺 Proudly Made in Australia
🌿 Committed to 100% Natural Ingredients
💡 Scientifically Formulated
🌟 Offers Optimal Hydration 
⏳ Provides Anti-aging Benefits and promotes healing 
Sang Tutorial Recommendation: For additional skincare knowledge and techniques, we recommend watching our tutorial on "How to DIY Lymphatic and Anti-Aging Facial Massage." This tutorial will guide you on beneficial massage techniques to enhance the effects of our Regenerative Rose Oil with Coenzyme Q10 Vitamin Booster. 

Video Link: How to DIY Lymphatic and Anti-Ageing Facial Massage
Learn the art of natural aging gracefully with our tutorial on "How to Slow Down the Process of Aging Naturally."
Video Link: How to Slow Down the Process of Aging Naturally
Is this safe for sensitive skin?
Absolutely! Our Recovery Balm is specially formulated with natural ingredients, keeping sensitive skin in mind. It is gentle and should not cause any breakouts or irritation, making it ideal for all skin types, including sensitive skin.
How many uses can I expect from a jar?
Our jars come in two sizes: 30 grams and 50 grams. On average, the 30-gram jar lasts around 1-2 months, while the 50-gram jar lasts around 2-3 months. This estimation is based on using the balm 3-4 times per week.
What are the benefits of The Recovery Balm?
The Recovery Balm offers a range of remarkable benefits. Firstly, it detoxifies and deeply cleanses your skin, ensuring a refreshed and revitalised complexion. Additionally, it helps to tighten pores and effectively eliminates pollutants that your skin encounters daily. The balm's nourishing properties leave your skin feeling soft, smooth, and rejuvenated.
Is your product vegan and cruelty-free?
Yes, absolutely! We take pride in being an ethical and cruelty-free brand. All Sang Skin Care products are vegan and never tested on animals. We are committed to using 100% natural ingredients, ensuring your skincare routine is not only effective but also kind to the planet and its inhabitants.
How soon will I notice results?
The effects of our Recovery Balm are noticeable instantly! From the very first use, you'll experience cleaner and noticeably softer skin. As you continue to incorporate it into your routine, you'll witness enhanced results, as the balm works to improve the overall health and appearance of your skin
Stay tuned for more tutorials and tips on Sang's YouTube channel to enhance your skincare journey and achieve the healthy and beautiful skin you deserve. Subscribe now and never miss out on expert advice and amazing results!