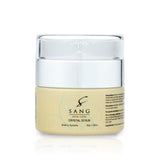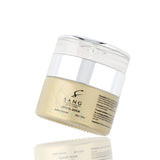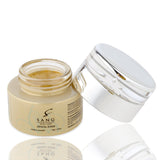 Sang Skin Care
Crystal Scrub - Home Dermabrasion
Introducing our NEW 30g Crystal Scrub!
Name : Crystal Scrub
Experience the Power of Nature's Exfoliation: Enriched with minerals, our Crystal Scrub has now doubled in size due to high demand. This gentle yet effective exfoliator works like home dermabrasion, revealing radiant, glowing skin.
Nourish and Protect with Pure Essential Oils: Crafted with care, our Crystal Scrub combines the potent benefits of Rose Hip Seed Oil, Green Tea, Ginseng, and Apricot oil, blended with a pure essential oil formula including patchouli, geranium, lavender oil, sandalwood, rosa Damascena, myrrh, rosemary oil, and carrot seed oil. These powerful ingredients soothe skin irritation, reduce inflammation, and provide complete nourishment and protection while cleansing your skin.
Choose Your Exfoliation Level: For gentle exfoliation, keep the scrub wet on your skin by adding water, perfect for younger or sensitive skin areas. For stronger exfoliation on thicker-textured skin like the neck, décolletage, and body, massage the scrub until dry, revealing a desired level of exfoliation.
Directions for Use:
MIX WELL BEFORE USE IF NEEDED
Put a small amount into wet hands, add water, and apply to clean skin, massaging in a circular motion.
For gentle exfoliation, keep the scrub wet on the skin by adding more water.
For stronger exfoliation, massage until dry and continue circular motions to remove all traces of the crystals or achieve your desired level of exfoliation.
Rinse off with warm water, follow with Hydration Toner, and finish off with Sang Recovery Balm or a moisturizer of your choice. Recommended for weekly use.
Ingredients: Our Crystal Scrub is made with the highest-quality, 100% natural ingredients, including purified water, Crystal, French clay, Apricot oil, Coconut oil, emulsifying wax, vegetable glycerine, Rosemary extract, Citricidal, herbal extract, Rosehip seed oil, citric acid, Green Tea, Ginseng, and a pure essential oil blend of Rose Geranium, Geranium, Patchouli, Rose, Sandalwood, Lavender, and Myrrh.
Features:
🇦🇺 Proudly Made in Australia
🌿 Committed to 100% Natural Ingredients
💡 Scientifically Formulated
🌟 Offers Optimal Hydration 
⏳ Provides Anti-aging Benefits and promotes healing 
Watch Sang's tutorial on 4 ways to exfoliate to learn more: Link to the tutorial

Reveal your skin's true potential with Sang Skin Care's Crystal Scrub - a natural, rejuvenating exfoliation experience. Get ready to embrace a fresh, glowing complexion
Is this safe for sensitive skin?
Absolutely! Our Recovery Balm is specially formulated with natural ingredients, keeping sensitive skin in mind. It is gentle and should not cause any breakouts or irritation, making it ideal for all skin types, including sensitive skin.
How many uses can I expect from a jar?
Our jars come in two sizes: 30 grams and 50 grams. On average, the 30-gram jar lasts around 1-2 months, while the 50-gram jar lasts around 2-3 months. This estimation is based on using the balm 3-4 times per week.
What are the benefits of The Recovery Balm?
The Recovery Balm offers a range of remarkable benefits. Firstly, it detoxifies and deeply cleanses your skin, ensuring a refreshed and revitalised complexion. Additionally, it helps to tighten pores and effectively eliminates pollutants that your skin encounters daily. The balm's nourishing properties leave your skin feeling soft, smooth, and rejuvenated.
Is your product vegan and cruelty-free?
Yes, absolutely! We take pride in being an ethical and cruelty-free brand. All Sang Skin Care products are vegan and never tested on animals. We are committed to using 100% natural ingredients, ensuring your skincare routine is not only effective but also kind to the planet and its inhabitants.
How soon will I notice results?
The effects of our Recovery Balm are noticeable instantly! From the very first use, you'll experience cleaner and noticeably softer skin. As you continue to incorporate it into your routine, you'll witness enhanced results, as the balm works to improve the overall health and appearance of your skin
Stay tuned for more tutorials and tips on Sang's YouTube channel to enhance your skincare journey and achieve the healthy and beautiful skin you deserve. Subscribe now and never miss out on expert advice and amazing results!