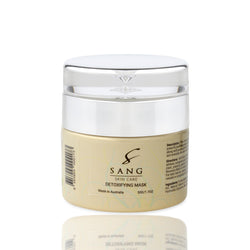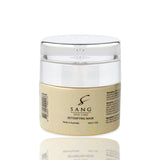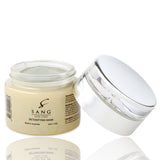 Sang Skin Care
Detoxifying Mask
Introducing "Detoxifying Mask - Reveal Your Skin's Natural Radiance"
Name: Detoxifying Mask
Description: Unveil your skin's true radiance with our "Detoxifying Mask." Designed for all skin types, especially beneficial for oily, problem, or congested skin, this mineral-rich mask harnesses the power of natural ingredients to purify, revitalize, and restore your skin's natural balance. Experience a transformative detoxification that draws out impurities without drying your skin. Enriched with Shea Butter, Aloe Vera, and a pure essential oil blend of Juniper Berry, Lavender, Ylang Ylang, and Neroli, this mask also soothes and hydrates, leaving you with a refreshed, glowing complexion

Features:
🇦🇺 Proudly Made in Australia
🌿 Committed to 100% Natural Ingredients
💡 Scientifically Formulated
🌟 Offers Optimal Hydration 
⏳ Provides Anti-aging Benefits and promotes healing 
The Magic of Natural Ingredients: Crafted with care, our Detoxifying Mask features an expert combination of Illite Clay, Kaolin Clay, and Smectite Clay. These mineral-rich clays deeply cleanse and detoxify your skin, helping to minimize pores and restore balance. Shea Butter and Aloe Vera further enhance the formula, providing soothing hydration while maintaining your skin's natural moisture levels. The pure essential oil blend of Juniper Berry, Lavender, Ylang Ylang, and Neroli assists in reducing breakouts and revitalizing your skin, promoting a youthful appearance.

Benefits:
Draws out impurities and excess oil
Minimizes the appearance of pores
Restores and revitalizes congested skin
Soothes and hydrates for a refreshed complexion
Directions for Use:
MIX WELL BEFORE USE
Apply an even layer to clean, dry skin all over the face and neck or target areas prone to oiliness, congestion, and breakouts.
Allow the mask to set and become dry, and then gently remove it with a damp cloth, pressing lightly with your fingertips.
Once the mask is completely removed, follow with our Hydration Toner, and finish with Sang Recovery Balm or a moisturizer of your choice.
For optimum absorption, use after exfoliating. Follow with Hydration Toner and Sang Recovery Balm or moisturizer. Use weekly or as often as needed for congested and breakout-prone skin.
Spot Treatment on Pimples: The mask can also be applied directly onto spots and reapplied as needed, as it becomes inactive once dry. Utilize the mask for spot treatment as often as required.
Sang Tutorial:
Ingredients: Our Detoxifying Mask is thoughtfully formulated with Purified Water, Illite Clay, Kaolin Clay, Smectite Clay, Macadamia Oil, Shea Butter, Cetyl Alcohol, Phenoxyethanol, Natural Vitamin E, Aloe Vera Juice, Cucumber Fragrance, Soya Bean Oil, Ethylhexylglycerin, Carbomer, Sodium Hydroxide, Glycerine, Disodium EDTA, and a pure essential oil blend of Juniper Berry, Lavender, Ylang Ylang, and Neroli.
Cruelty-Free and Earth-Friendly: We are proud to be cruelty-free, never testing on animals, and committed to preserving our beautiful planet. Our "Detoxifying Mask" is crafted with love for your skin and the environment.
Reveal a Refreshed Glow: Unlock the potential of your skin with our "Detoxifying Mask." Embrace purified and revitalized skin, a true reflection of natural radiance. Transform your skincare routine with this invigorating mask, and let your inner glow shine through!
Is this safe for sensitive skin?
Absolutely! Our Recovery Balm is specially formulated with natural ingredients, keeping sensitive skin in mind. It is gentle and should not cause any breakouts or irritation, making it ideal for all skin types, including sensitive skin.
How many uses can I expect from a jar?
Our jars come in two sizes: 30 grams and 50 grams. On average, the 30-gram jar lasts around 1-2 months, while the 50-gram jar lasts around 2-3 months. This estimation is based on using the balm 3-4 times per week.
What are the benefits of The Recovery Balm?
The Recovery Balm offers a range of remarkable benefits. Firstly, it detoxifies and deeply cleanses your skin, ensuring a refreshed and revitalised complexion. Additionally, it helps to tighten pores and effectively eliminates pollutants that your skin encounters daily. The balm's nourishing properties leave your skin feeling soft, smooth, and rejuvenated.
Is your product vegan and cruelty-free?
Yes, absolutely! We take pride in being an ethical and cruelty-free brand. All Sang Skin Care products are vegan and never tested on animals. We are committed to using 100% natural ingredients, ensuring your skincare routine is not only effective but also kind to the planet and its inhabitants.
How soon will I notice results?
The effects of our Recovery Balm are noticeable instantly! From the very first use, you'll experience cleaner and noticeably softer skin. As you continue to incorporate it into your routine, you'll witness enhanced results, as the balm works to improve the overall health and appearance of your skin
Stay tuned for more tutorials and tips on Sang's YouTube channel to enhance your skincare journey and achieve the healthy and beautiful skin you deserve. Subscribe now and never miss out on expert advice and amazing results!